Whites Marine Center
3010 Energy Lane,
Casper WY, 82604
Tel:(307) 235-3900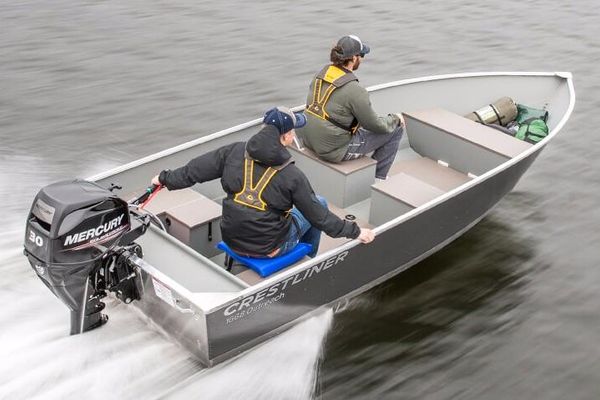 2018 Crestliner 1668WT Outreach
To catch a fish, all you need is passion, a rod, some bait, and a boat that'll get you where you need to go. This 16 ft v-hull aluminum boat is just the thing to enhance your time fishing on the water. Durable and lightweight, the mid-ship split bench seating and open design of the 1668 Outreach WT allows you to walk throughout the boat to get the best casting spot. While it may seem simple in design, the 1668 WT is a smart, dependable addition to any angler's – or resort's – fleet.
Please note: This boat model may or may not be in-stock. A Nationally Advertised Price, if listed, may change without notice or include accessories not fully described herein. Please contact your local, authorized dealer for exact details on model availability and package pricing.
Seating
Marine-grade vinyl wrapped bench seats
Seats, split (stern)
Seats, split (midship)
Interior Features
Battery Holder (1)
Stern storage compartment
Center side storage compartments
Removable marine-grade vinyl wrapped pressure-treated wood floor
Heavy-duty tubular seat to gunnel braces
Full-width self-draining splashwell
Exterior Features
Riveted aluminum hull w/double riveted seams
Riveted aluminum hull
Semi-V hull
Keel, extruded full length, welded (center)
Paint Process, Enamel
Aluminum clad transom
Gunnel, extruded
Corner caps, formed
Cast bow plate
Bow eye
Transom handles
Transom corner castings w/handles
Spray rails, extruded
Transom drain plug